Okay, *coughs*
I can't stop coughing since I finished watching this music video.
Well, I'm taking a sick leave from work today because, yeah, I'm sick.
I've been not feeling well since 2 days ago. And now I'm on my bed, writing this post.
Let's get rid of my sickly self at a moment.
So, they finally released the MV for 18th single; Nigemizu (lit: Mirage)
I won't write much, so I'll skip my thoughts regarding the song. I'll just write my thoughts of the MV just as the title of this post said.
1. So it's about two girls (Momochan and Yoda) who're about to work in a 'weird' mansion. I was hoping the story is audible like "Taiyou Knock". But it turns out as a no. Too bad…
"Itami Household is an inexplicable mansion. I hope you won't be surprised looking around here."
or so the lady said.
2. PAIRINGS ON PARADE!!! *coughs*
The moments I see Naachan and Reika in this scene, I have a gut feeling that Waka will be next to Reika
BINGO!
By the way, the calligraphy behind them says "Morning is bread"
And in front of WakaNanaRei, there are Karaage Sisters
And at the back of them, a calligraphy says "Absolutely Rice"
So they're fighting what's best for breakfast lol
BLACK ERIKA-SAMA!!! <333 PLEASE SCOLD ME!! <333
BOY! I really want to know what do the say in the dialogue! But from their situation, I think Karaage Sisters are mocking those who prefer bread in the morning.
Waka-sama is triggered but Sakurai was calmly said,
"Waka…"
AIJDAHUHRHJT
HAKUMAI-SAMA, KARAAGE SISTERS' SAVIOR HAS ARRIVED!!
(Hakumai= 白(haku) 米 (mai) is similar to Maiyan's name 白(shira)石(ishi)麻(ma)衣(i) without 'ishi' and 'shira' can be read as 'haku' so 白 (haku) 麻衣 (mai))
She brings a jar of rice for three of them ❤ 
The Muhyoujou sisters show their perfect smile…for Rice and Maiyan =))
Absolutely rice, huh? :3
Let's move to the next pairing, IkoMina (I'm not sure if it's the official pair name for Ikoma and Minami-chan… Somebody please correct me if I'm wrong)
Feel the deja vu?
Shakiism references?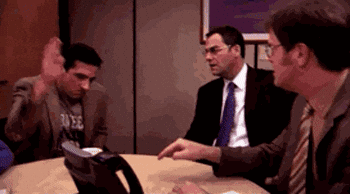 3. Sadistic Nishino Nanase
Naachan was spreading a jam onto her toast. And the Karaage Sisters look at it with "wow…that looks yummy" eyes. 
Naachan noticed it and asked, "Wanna have some?"
Karaage sisters noticed that their gazes to the toast are noticed so,
They're quickly looking away! SO MUCH TSUNDERE FOR A TOAST! LOL!
And looks like Naachan is having fun teasing them. What are you? an S?
They're still looking at the toast anyway, until Hakumai-sama came.
4. MEMBERS' SOULS ARE TAKEN OVER BY…SOMETHING!
5. Some turned into zombies at night
6. Kazumin…? What are you? The Queen?
I burst into laugh when I saw her patting a dog print =))))
6. The cast
Maid Trainee: Oozono Momoko, Yoda Yuuki
Pro Rice: Itami Mai (Shiraishi Mai)
Pro Bread: Itami Nanase (Nishino Nanase)
Senior Maid: Itami Asuka (Saito Asuka)
Delinquent China Girl: Itami Miona (Hori Miona)
Pro Rice: Itami Iku (Ikuta Erika) 'Iku' lol =))
The Real Chinese: Itami Manatsu (Akimoto Manatsu)
Pro Rice: Itami Matsu (Matsumura Sayuri)
Tired Office Lady: Itami Sa (Eto Misa) Sa? SA? Really? Just SA?! =)))))
Pure straight-laced person: Itami Minami (Hoshino Minami)
Hikikomori (Shut-in): Itami Kazu (Takayama Kazumi)
Pure straight-laced person: Itami Koma (Ikoma Rina)
Pro Bread: Itami Sakura (Sakurai Reika)
Way too tired Office Lady: Itami Shin'uchi (Shin'uchi Mai)
Pro Bread: Itami Waka (Wakatsuki Yumi)
Delinquent NEET Girl: Itami Marika (Itou Marika)
Delinquent NEET Girl: Itami Sayuri (Inoue Sayuri)
Maid Leader: Ogawa Tamaki
7. TABEISHI-SAN!!
8. The last dance scene reminds me of AKB's Kimi wa Melody. Maybe because the colorful props.
9. The last, obligatory screenshots!
Just two… Too bad but, better than none ❤
That's all. Thanks for coming m(_ _)m
FYI, I collaborated with someone to create a Nogizaka46 fansub. You can visit our blog here!
Once again, thank you!
Now, it's time to take some cold pills 😡